On June 25, the US had the most new cases in one day since the start of the cycle – 40,184 cases compared to 39,072 on April 24 which had been regarded as the peak. The next day, this record was blown away with 47341 cases – a day to day increase of 17.8%!1 This hardly sounds like
". . . all 50 states and the territories across this country are opening up safely and responsibly" as Mike Pence claimed on Friday2
What's going on? As I have mentioned before with respect to Florida and South Carolina. this growth has fueled largely by infections caught in public places bars, restaurants, beaches, etc. following the move toward reopening starting in late April. It's worth noting that protests, a leading target of the Trumpites do not appear to be an issue3 probably because they are outside and may wear masks. Since then. the situation has gradually worsened to the point that only 2 states (Connecticut and Rhode Island) are exhibiting decreases in new cases per day while while 16 are experiencing growth in daily cases of over 100% in the last two weeks.4
Table 1 below shows the situation on June 26 in the highlights 9 of these states – those that experienced their largest number of new cases per day within a few days of June 185 – a time when it had been claimed that daily cases would be decreasing rather than increasing.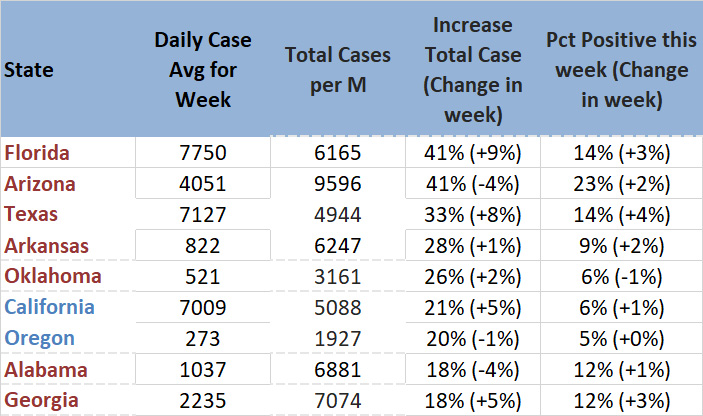 Table 1. Situation in the 9 states having their maximum number of new daily cases at or around June 186
Points to note with respect to Figure 1:
Countries are arranged in the order of growth cases per day in the week leading up to June 27
In every state except Oregon, the growth in number of cases was higher than the week before.
All states except Oregon have now experienced a higher number of cases per capita than Canada. Of the remainder the number of per capita cases in Oklahoma is comparable to those in Canada, those in California and Texas comparable to the UK and those in the remainder comparable to Spain. Keep in mind that, in every case, the growth in the US state is much higher than that in the country it is compared to; in fact daily cases are decreasing significantly in Canada, the UK and Spain.
The list is dominated by Republican controlled states (

State name in Red

). Undoubtedly the less frequent use of masks in these states due to politicization of the issue.
Finally there is the big lie often said by Republican Governors saying that growth is due to more testing. In this regard, note that, in all Republican controlled states in the table , the percent of positive tests is over 5% and increasing. An inevitable consequence of this is that the number of cases in these states is understated7 and, in the states where the positive percent is over 10% and growing (Florida, Arizona, Texas, Alabama and Georgia), the under counting is likely to be significant.8 In addition, when one considers the difficulties in getting tested and delays in getting results in states like Florida,9 Texas,10 and Arizona11 and Arizona

it seems unlikely that many asymptomatic or not very sick persons would have to persistence to get tested.
References