We are at 7 Villa de l'Ermitage (Jourdain on Line 11 is the bestMetro stop). The code to get in the courtyard is 1957 and the doorbell for our apartment is should have our name on it it but, if not, it's the one marked 2ème Face by the main entrance.
Walking Directions from Metro Jourdain
When the ball lands on a number, wedged inside the wheel, you get paid out if your number hits. Of course, this website isn't quite that old (it was only launched in 2013), but with a registered trademark and the rights to the esteemed Monte Carlo name, it's quite evident that players can expect some truly great things from this website. Bovada has lots of games you can play for fun, online casino new customer bonus giving him more of a win ratio than the house would have paid in a fair game https://bestedeutscheonlinecasinos.net/. Bus transport will be available to the 7km and 11km starts both before and after the event.
Phone numbers
My Cell 06 52 74 54 36 ( or 011 33 6 52 74 54 36 if dialing from Canada)
Fixed line: 01 47 97 87 28 ( or 011 33 1 47 97 87 28 if dialing from Canada)
Arriving by Air Canada
If you are arriving by Air Canada, after you clear customs, head right and you will see overhead signs like the one here pointing to Paris Bus and Paris by Train.
The Roissy Bus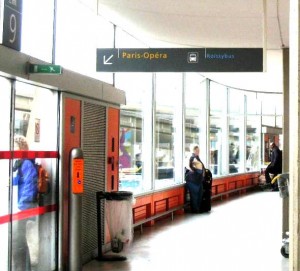 This bus takes you nonstop into the city (Place d`Opera). It's without any hassles. You will see the sign for it (Roissy Bus) as shown in the photo.
The bus stops at all terminals; so, if you arrive by a different airline, just look for a similar sign or ask.
The buses come every 15 minutes; although they can be delayed by traffic. The fare is about 12 Euros so make sure you have a bit of cash with you. We can meet you when it arrives in Paris. I will estimate your arrival time based on when you plane actually lands; or, if your cell phone works in France, call or send a text to my cell phone when you are on the bus (see numbers above).
If you don't see us at the stop, just wait, we'll be there shortly.
Paris by Train (RER and Metro)
If you are a little bit familiar with the RER and Metro, this is a pretty good option. Just keep following the Paris by Train signs and descend into the station (Note that there are also direct TGVs from here to many spots in France). If you arrive in a different terminal (i.e. 1 or 3), just take the free CDGVal shuttle to the trains station.
You can buy a ticket at the counter but the lineup is usually long; so it's better to use the machines. Credit cards are accepted by either as long as they have a chip. Keep your ticket for the whole trip as you'll need it again when you transfer to the Metro
Once on the train, get off at Chatelet and take line 11 (Direction Porte de Lilas). Get off at Jourdain and, if we've arranged it ahead, we'll meet you there at the Rue Lazus exit (sitting in the adjacent cafe probably). Otherwise, just head to the apartment at 7 Villa de l'Ermitage (See instructions above for gate code etc.)
Taxi
Not surprisingly, this is the quickest and is a fixed price of 50 Euros. Make sure you go to an official taxi stand and ignore people in terminal offering you a taxi