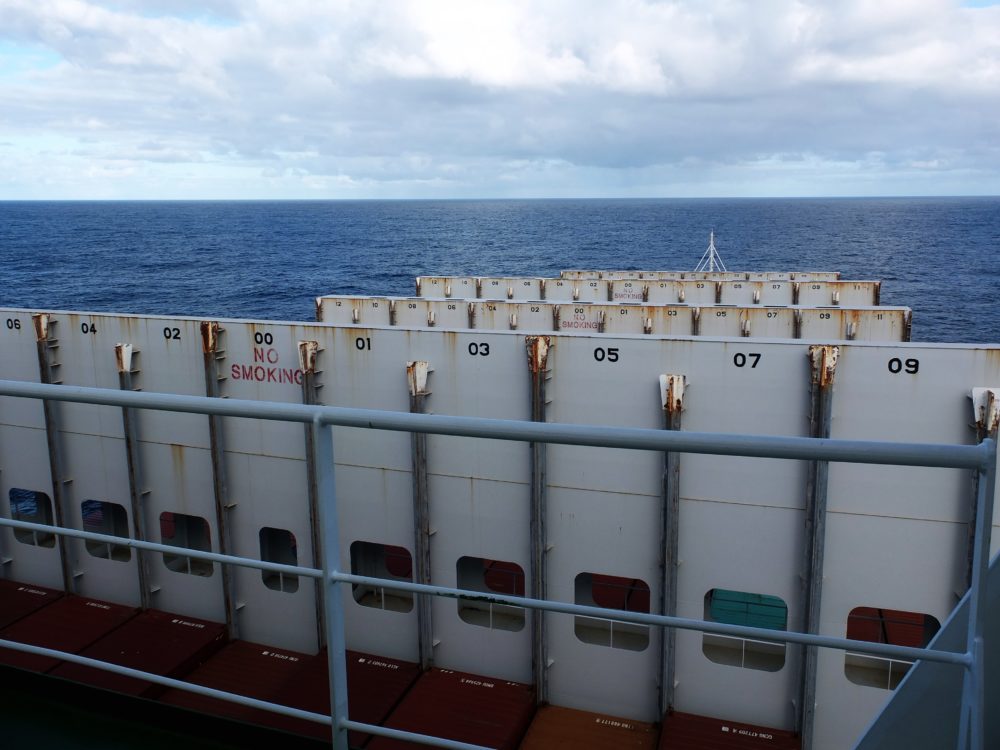 Friday, October 12, 2018
Just boarded ACL container ship (Atlantic Sail) in Halifax and going to Liverpool where I will get off and go to Paris. It's 6 or 7 days to Liverpool and 12 or 13 days for the whole trip. I will get about a day to visit Liverpool and Hamburg on the way.
Photos
Article continues below
The fare is reasonable – about 1000 Euros including meals. Facilities are pretty good – a large cabin, exercise room, basic internet, laundry facilities, etc. There is a good amount of non-scary deck space to walk around on.
I am travelling alone – too boring for Marilyn. There are nine other passengers – 2 French couples, 2 German couples and 1 American. All 4 of the couples have RVs on board which I guess is a good reason to gravel this way. None are young but I'm certainly the oldest.
We left just after 4 pm and slowly passed under the bridges and by downtown very close the Halifax side – a very different view of the city. It was very wet and dull so I don't expect much from the photos I took.
Saturday, October 13, 2018
We're well to to sea. Nice weather with some swell. Surprisingly to me, the ship, large as it is, does move about a fair bit. Went out on the deck for a while and it was surprisingly nice on the lee side. I would guess that the temperature is about 150 C.
I would sit out if they had chairs there. In the briefing, they said that it's too cold at this time of year so they don't bother. I'm sure it will start getting colder tomorrow.
Exercised on the treadmill and off to lunch soon. Meals are fairly plain but no complaints. The breakfast is quite decent. Couldn't have wine with supper last night – I suspect it was due to the fact that we were still in Nova Scotia. They only allow two airline type bottles with supper; it's a good thing I cut back before the trip (unrelated to the trip).
Went outside about 2 and it was even warmer – maybe 20. We were about 150 miles south of St. Pierre (St Lawrence) at that time. During a drill for the crew, the took us up to/ the bridge – really impressive – but, better yet, a real espresso/cappuccino machine that we can access whenever we want.
I suspect upcoming days will be very similar; so I might not post for a while
Sunday, October 14, 2018
Well I was wrong; there is something to say today. According to the GPS on my phone we are about 400 miles south east of St John's Newfoundland at 11 am. It is cooler (but not cold) and a bit foggy with light rain. Our speed is 18 knots (i.e. Just under 500 miles or 800 kms per day)
They gave us a tour of the cargo area today. The ship carries many containers in open areas on the bow and stern; I forgot to ask the capacity but will when I get the chance. In between is closed in with the top two decks containing crew and passenger facilities and the bridge. Underneath are 11 (yes 11 not a typo) interconnected vehicle decks. The highest up is only high enough for cars while the lower 10 are much higher and can take big trucks, immense tractors and so on. The total height from the first cargo deck to the top level where my cabin is is about 150 ft. — a lot of stairs to go up and down. The ship is carrying a small portion of its maximum cargo which is about 5000 containers AND 5000 cars (if all normal sized).
There were not a lot of cars being shipped to Europe – strangely a number of used ones and a few specialized new ones. I suspect that there are a fair number coming the other way towards the US (Sorry Trump).
I saw the "campers" belonging to the two German couples; they were huge and looked like oversized armoured trucks. I talked to one couple at lunch and they have been travelling for more than 5 years – across Asia first, then Australia, over to the US, into Mexico, up the coast to Alaska and finally across Canada to Halifax to complete a circuit of the earth. Obviously, they and the vehicle went on ships between somewhere in Asia to Australia and then from Australia to Los Angeles. They did fly home (leaving vehicle behind) a few times for a few months each time. Based on brief comments heard from others, their travels were of similar length. None of the couples had met before this voyage.
Tuesday, October 16, 2018
The mild weather continued yesterday and it was sunny a lot. There was lots of swell though which meant internet was pretty much off as the gyros couldn't track the satellite very well. At noon we were about 700 miles due east of St. John's ( and almost directly south of the tip of Greenland) – far to the south of what I would have expected. I found later that the captain was doing this to seek calmer sees. This isn't so much for the comfort of humans but to protect the cargo. I guess that it's not always that well packed inside the containers. One couple whose cabin is in a different part of the ship from me couldn't sleep the night before last because of stuff rattling around in a container somewhere below them. (I must be getting a little bored to be writing about this trivia)
I talked to one of the French couples last night and they have been on the road fro 6 years with returns to France for about a month each Christmas. They started in Uruguay and worked there way all way up to Alaska through BC. They have a daughter and grandchildren there so they spent a fair bit of time there going and coming back. They then crossed Canada for some time in Quebec before heading to Halifax to board the ship. They said they spent little time in Atlantic Canada; but this is obviously relative as they did manage to get to the Magdeline Islands. Even as French speakers, they, like us, had difficulty had difficulty with the accent and some words and made a fair bit of use of a local dictionary they bought.
Later . . .
It is now noon and weather continues to be good – 15 degrees and mostly sunny. We are now about 1000 miles due west of Bordeaux (France) which gives a good idea of how far south we are of the normal track.
Wednesday, October 17, 2018
It's now 3 pm and we are about 400 miles ESE from the southern tip of Ireland. The sea is almost calm and it continues to be mild but not completely sunny, We will arrive in Liverpool at 8 am on Friday, the day after tomorrow. Based on distance, I would have thought we'd be there much before that but I guess it takes hours to get in the harbour at Liverpool.
I have been taking some photos but will need to wait till I'm on shore to post them. The internet here is probably slower than dial up and, for those who recall those days, there was a reason images on the net were rare.
I forgot to mention the make up of the crew. Most of the crew and about half the officers are Filipino. There are a few Italians (the company owning the ship is based in Palermo, Italy. I did talk to one crew member who, I assume from his accent, is English.
Thursday, October 18, 2018
This is the last day at see, Got up just before 8 to a beautiful clear day an a view of the southern tip of Ireland about 20 miles away.
We were supposed to have a little excitement today with an exercise involving a helicopter from the Irish Coast Guard. However, the Irish cancelled at the last minute due to "operational issues"
Friday, October 19, 2018
At 4 am we were roughly 100 metres from the pier. This followed what I believe was a long, slow trip up the Mersey into the harbour. It would have been nice to see this in the daytime.
It actually took about 4 hours to compete all the maneuvering to do the last bit and get ties up. It involved tugs and an expert from the port on the bridge.
We were loaded into a minibus at about 8:30 and taken to the port entrance. The port is enormous (makes the container port at Halifax look miniature). There, we waited for a taxi and were taken into Liverpool. I had decided to go straight to Paris — train to London and Eurostar to Paris arriving at about 7 pm.
I am now in our apartment in Paris where I am finishing this up.