Our apartment
Here is a link to our apartment. It's fairly small so we'll have to keep ourselves somewhat neater than we normally would, but it's more than adequate compared to some of the hotel rooms we've had through the week (and for much higher prices). We'll be quite content here, I know it. Doug made us a fine supper — we were exhausted — and we've enjoyed the most wonderful wine (3 Euros for a good bottle which, at home, would cost $12 or more ) and a home-cooked meal of chicken in tomato sauce with onion, potato and carrots.
We are on the ground floor of a somewhat large apartment building, five stories high, with a courtyard in between us and the street, which we can use to enjoy a drink or sandwich during the afternoon or at night. It has tremendous potential to be a divine oasis away from the city, but it's a bit rundown and neglected. Give Mill a few hours at a Dollar Store and a plant store and she could make it sparkle. Oh well.
The apartment has a good TV set, a comfortable bed, very small kitchen, and a washing machine that took forever… about 90 minutes. I know the clothes were bloody clean by the time they were rinsed and spun out over and over. The little machine, which looks like an air conditioning unit, makes the sound of a Boeing 747 taxiing for lift-off when it's spinning the clothes dry… But hey, we now have all our clothes clean after a week of cycling and we didn't have to spend hours sitting around the laundromat looking after that task.
We are on wireless internet and both hope to get some work done in the coming weeks. The neighbourhood is lively, although most people would consider it to be working class – lots of bars, cafes, grocery stores, laundromats, gas and auto repair centres and regular Parisiens who are living far away from the touristy sections. We have a washer in the apartment so we were able to do all our laundry tonight (it dries all scattered around the place and hung on a little device tucked into the bathroom).
There are huge advantages to having our own place (and they'll add up to plenty of Canadian dollars during a month's visit to Paris), such as enjoying one glass of wine (3 Euros), one cup of coffee (in Paris, at least 3 Euros), doing our own laundry (about10 Euros to wash and dry one load, plus the time it takes to wait around a boring laundromat), using the high speed Internet in the comfort of our own apartment (at least 2 Euros an hour with a French keyboard). And here's the best part – the telephone is FREE to Canada, probably voice-over-internet-protocol or VOIP!!
And of course, being able to enjoy healthy picnic lunches and home-made suppers is a huge bonus! It would normally cost us about 25 Euros for lunch with wine, and considerably more for dinners every night. Even if someone was coming to Paris for one week, it would be recommended to take an apartment – who would have thought it would take us 20 years to realize how much more relaxing having our own apartment could be? I know I'm sold on it, and Doug is too.
Getting up this morning to a large cup of Tetley tea and a bowl of bran flakes (instead of one cup of delicious cafe au lait and a small serving of bread and jam in a hotel) made all the difference for my 10k run. And I got lucky — about 10 minutes into my first Paris run in this area, I looked up and noticed there were a lot of runners on the hill above the boulevard I was running along.
Well, turns out I am living about four blocks from the largest park in the entire city of Paris, called Buttes de Chaumont, which stands for bald mountain. It was built in the late 1800s to cover up a garbage site. It has circular roads that go upwards, like the pile of garbage likely did, but there are waterfalls, man-man lakes, hiking trails and activities galore for kids, even pony riding, fishing, paddle boats, etc.
The neighbourhood
The 20th arrondissement where we live is popular among immigrant groups, so it's not unusual to hear numerous languages besides French. It's also gaining a reputation as an arts-friendly quarter, with lots of
very small painting exhibitions in tiny venues and intimate jazz and blues concerts in the cafes. One such art exposition is taking place at Cordonnerie (an old cobbler's storefront), which is about the size of a typical North American porch. It's run by an English girl who has a translation/journalism business, just a teeny office where she doesn't seem to put in long hours. Her website is here.
Our actual small neighbourhood we are in, Belleville (See Map), has quite an interesting Wikipedia write up or the Official Belleville Village Website.)
Within just two or three streets in our neighbourhood, there are more than five amateur art expositions showing, all quite affordable art and interesting abstracts (mostly). My kind of artwork!
This is a real area of residential Paris, with real people who live in apartments with balconies with bicycles hanging off them because there's nowhere else t store them, who do their laundry at the laverie nearby, and who (like us) buy their groceries and lug them home in their backpacks every day. It's not difficult even in a few days of being here to recognize the neighbours either. The little black and white cat next door is named Felix and he's already had numerous naps on our bed in the afternoon. He enjoys napping when Doug does. He's very friendly but likes to bite affectionately.
About 10 houses from ours, there's a beautiful park called Parc Belleville that offers sweeping views of Paris. It's incredible, just looking out over the entire section where we are. We can see the Eiffel Tower and the Seine River from here, although it is a bit of a hike.
There was a 20-km race through this quarter this morning with about 1,000 runners going through the Buttes de Chaumont. It's always more fun for me to run when there are others ahead of me, so I had my best run for the entire week. I like to pick someone who's ahead of me and pass 'em, which helps me pick up my pace and makes it more enjoyable. What a wonderful thing to have a park like that so close to me. There were people doing body bar and stretch classes, yoga classes and lots of Falun Gong meditation classes were taking place in the open areas.
We're happy living in the neighbourhood we chose in the 20th arrondissemont, and are actually quite delighted with the variety it offers. Lots of stores (bread, meats, fruits and veggies, frequent food markets), bars and restaurants and close to everything by Metro… I just came back from riding my bicycle for an hour an a half, through the busy streets. It was fun. I did get a little lost (the boulevards all look alike to me) but eventually found my way home with no real difficulties.
Here's a slide show offering some pictures from our neighbourhood in the 20th Arrondissement.
We've seen all of these locations during this visit and have taken pictures of many of them, from different and less artistic angles, of course.
This website might be my favourite for images of Paris – it's a guy named Eric who seems like he might be interesting to meet on another visit to Paris:
Experiences and Observations
We got groceries about mid-day today at an outdoor street market. Doug bought roast duck for our supper, along with the ingredients to make fresh ratatouille. It's carrots, zucchini, onions, mushrooms and tomato
sauce. We bought a bottle of champagne to celebrate our successful arrival and lots of bread, pate, cheese, tomatoes, fruit and so on. I'm watching English TV right now while my feet are propped up at the kitchen table with a glass of wine. This is pretty good!
Every day we go faithfully to the small butcher, baker, alimentaire (for fresh fruits and vegetables), as well as the Monoprix, Francprix and/or Champion grocery stores to get everything we need for the evening meal. We've eaten out a couple of times but it's more enjoyable to buy delicacies (like palm hearts, celeriac salads, olives, and other treats) to linger over at home.
It's fun here. We had another delightful supper. Bought a whole roasted  chicken for 3 Euros and Doug, of course, transformed it into a feast, with  carrots, zucchini, spices and tomato sauce, potatoes and onions. It was so tasty and healthy, very soothing on a coolish evening like tonight. We had olives, bread, pate, palm hearts in a vinaigrette sauce and another inexpensive bottle of fake champagne to start our dinner. I'm enjoying the get-togethers with Doug at the end of the day, because he tends to stay in the apartment or closer to home more than I do. He does the neighbourhood by foot while I do the town on the Metro and my bike and runs… His knees are bothering him a bit so he's staying closer to home. I like wandering around and once I know my Metro route or have it all mapped out for biking, I'm off, no matter how far away it is.
The food here is SO not expensive. The best country pates can be had for 1 Euro for a generous slice, same f
or a small round of fresh goat cheese, it's 0.80 Euros for a fresh baked baguette and fruits and vegetables (and fresh flowers) are quite a bit less expensive than at home. And it's all available everywhere, in the big grocery stores, in the smaller one, in the ailmentaire (corner stores) and in the fruit and veggie stands, which are literally everywhere. Wine stores are frequent too but you can also buy as-good-as-at-home wine and champagne from the equivalent of a small Super Store for just a few Euros! We've been finding the meat relatively inexpensive too. Doug's pre-cooked chicken of a few days ago became a sweet smelling soup with little turnips and purple cabbage and small chunks of turkey.
Well, we are having no problem with our feline friend Felix. He comes and goes whenever he wants. He arrived on our bed at 4:30 this morning (the bedroom window was open) and stayed for a while, cuddled up with us. He's cute and very affectionate. A bit earlier this evening, just as we were enjoying our pre-dinner picnic, he sailed in, purring his pleasure at being able to come and go. I'm enjoying his company.
I had another grand day yesterday. Again, I went to the markets at Momatartre (around Sacre Coeur) and was fortunate to talk to a few of the long-term artists who work there. It is getting difficult now, one said, because they no longer have a policeman in the neighbourhood to guard against vendors/artists who sell computer images or non-authentically produced prints (the equivalent of photocopies versus archival paper). She said on November 1, they will close off all the restaurants in the middle of the square and the artists will have more room but there will be fewer  tourists and less business, and it will be cold and damp. She had cancer four years ago and is still somewhat unwell. Many of them are doing quick caricatures for a quick buck from willing tourists. Some of the prices range from 10 Euros (equals 14 Canadian) to hundreds of dollars….  Interesting day. Not very many tourists which really makes life easier getting around. The subways are the same whether there are tourists or not because I'm not sure many tourists ride the underground, except in the stops that run along the Seine. It's a fantastic transit system and literally takes just minutes to get from one end of town to the other.
I bought some shoes for $15.00 (sort of like Payless Shoes) and $10.00 and a sweater for Doug because he's been finding it cold in the apartment sometimes. We brought minimal clothes with us because of biking from London to here, (you can't fit enough clothes for five weeks in a bike bag!) so his warm sweater will come in handy. I also bought a six-piece espresso set – cute.
I spent the whole day wandering around that neighbourhood called Barbes-Rochouart. I enjoyed myself immensely. We also took a 10k bike ride later in the afternoon around some of the larger, more hectic squares within a few kilometres from us, along rue Belleville and Melinmontant. We might as easily been in Algeria or Turkey as in Paris — it was incredible how foreign it seemed. There was a huge food market just closing for the day, and the confusion of getting through on bikes was a little overwhelming for me, given the number of vans and vehicles associated with the market that were taking up the bike lane,  along with late afternoon everyday traffic. A few times Doug got well ahead of me at big intersections but he's very considerate and waits patiently a few lights or blocks away for me to show up. I just follow his lead, but I'm a lot less aggressive on the bike. He forges ahead but I always keep a wary eye behind me, which gives the drivers the nerve to pass me, no matter how narrow the roadway. Same for the scooters, which are incredibly brazen about passing cars, trucks, bikes, buses, and pedestrians. They'll run you down if you're not careful.
Took a walk a little after 9:30 at night – Doug had already gone to bed. It was interesting to be out alone at night. The neighbourhood is unchanged, which is good to see. The streets, surprisingly, felt about the same as daytime, well lit, safe, with lots of Parisiens on them and quite enjoyable to roam around. The bars and cafes are less busy but still enjoying steady business. The view of the Eiffel Tower from the top of our street is fantastic – it's about 10km away but looks so close from the Parc Belleville. The view of the city is well worth an after-dark walk. It's the best place to see a lot of sky and the moon too because there's not much of it visible in our courtyard area.
Today we are going to cycle out of the city (we are near the north eastern edge) and take a bike ride/picnic along the River Marne. Update: That was a lot of fun – we cycled about 30k around a huge wood called Bois des Vincennes – I remember running through it during the Paris marathon in 2003 but had no clue it was so big! It didn't seem quite as scenic then, either, for some reason. Might have been the pain of having already run about 30 kilometres, rather than running!
We've done quite a bit more bicycling in recent days, venturing many miles in all directions. It's great to have Doug lead me through some of the big intersections but my comfort level is increasing exponentially. It's quite enjoyable, far more so than in Halifax, where I never feel quite safe because the drivers come too close to you on the bike. Here they will bide their time and treat you just like any other vehicle, waiting until the road is wide enough to safely pass you. With practice, I'm getting much more confident and less inclined to pull over when I hear the revving of a car or scooter behind me. I have a right to be on these streets and it's well respected by most of the drivers.
It's Halloween in Paris
Halloween is at least 100% of a percent less than it is in North America. The retailers/bakers and some business owners decorate their stores with some orange fall colour and cute leaves but there's not at all the hype we see at home. The larger grocery stores have small sections dedicated to costumes for kids but not much else. And the French are not rushing home with pillow cases full of bags of chips and cheesies and chocolate bars. Nope, they stick to the old baguette and some pungent-smelling cheese for desert no matter what day of the week it is. It's dark here now and there is no sign of any children trick-or-treating when I was just coming in from my favourite area – below Sacre Coeur, it's a shopping district that would make you think you were in another country entirely. Great fun. I spent the afternoon there.
I can't understand how the French people as a population do it – they walk lots but they eat lots too. They drink and smoke plenty (nearly everyone still smokes here) and yet, they seem slender and fit. I walked behind a girl to the Metro yesterday… she's a prime example: She was smoking a hand-rolled cigarette, carrying bags of groceries and purchases in both arms, talking animatedly on her cell phone, and of course, wearing the highest of heels on her leather boots – yet, here's the rub! She was walking so fast I couldn't even catch up to her. I was wearing my sneakers and like to consider myself somewhat athletic! There you go! Certainly the city dwellers walk a lot – the Metro system is fast and efficient but most stations have many stairs and escalators and lots of long walkways to get from line to line. The average Parisien who takes the Metro would walk a lot here, for sure, compared with home.
Monaco and Monte Carlo
Yesterday, we got up early and took a 3.5 hour train to Marseilles, a beautiful old port city on the Mediterranean. Ate supper last night just inches from the sea, outside in the air. The bars and restaurants
were hopping, with about 300 restaurants packed into the old harbour area.
Today we are in Monaco, which by anyone's standards is indeed a stunning place. It is a 3-hour train ride from Marseilles.
However, how can I explain, Monaco is completely empty of character and charm. It is rich, filthy rich, built into the sides of the hills overlooking the Mediterranean but the only people who really get the views are the
very rich and famous (or the fairly prosperous tourists like us). The shopping malls, bus system, nearly everything seems to be built into the rock, so the sweeping views are there but you get minimal looks at them. Plus, there don't seem to be any REAL people here – with laundry, grocery shopping bags, lingering over a drink, walking their dogs. My goodness, it's just not what I expected somehow. It's a cramped kinda place with a steep hill to the top, with mansions behind gates overlooking the sea, narrow roads, but unlike most French villages, no center and no heart. There are two harbours, one big and one smaller, (we are staying at the smaller one) but they are full of boats which can be little teensy things that would sell here for $200,000 Euros. Most of them are large $4 and $5 million Euro yachts. But you just don't see people walking, talking, sitting around enjoying life, they're not even out on their balconies. There seems to be no beach, nor any oceanfront access at all here, certainly not for the regular folk. Nah, give me the hustle and bustle of a port city that's alive with commerce (bars, restaurants, inexpensive stores, riff raff) any day over this!
The hotel we are staying in is called the Columbus Monaco…. www.columbushotels.com. Click on bedrooms and you'll see one just like ours, except ours has a sea view and it's a suite with a full bedroom and living area, plus a balcony high above the water. It's fancy, of course, but not as functional as it could be
Our suite overlooking the ocean is compliments of Doug's client and probably costs at least 500 Euros a night. We will only be here one night, of course, and it's just as well. We've had a devil of a time all afternoon getting the Internet connected because it's set up poorly for connecting computers.
Doug's gone out for a dinner meeting now and I'm staying in… It has to be 25+ degrees out there and flowers and trees are in full bloom. People are wearing sleeveless tops and sandals, whereas they're in tights and knee-length boots in Paris. Yes, I know I'll be wearing my parka when I get home, but that's okay too!
Belleville Market Day
It's Friday, November 3, and we went to the famous and huge Belleville Marché today. The Tuesday and Friday market seems to go on and on forever, set up in the middle part of a long boulevard, with vans and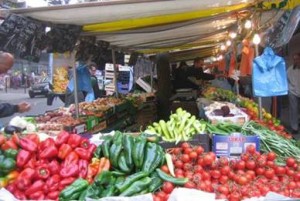 trucks, pedestrians and sellers stands obstructing intersections and in particular, the bike lanes on each side of the boulevard. Oh well, you just come out on the bike and find your way as best you can. Drivers do give you the right of way and don't crowd you, most of the time, that is!
It's not far from our house maybe a 10-minute walk to the Belleville market, but in that brief length of time, we could have gone to Asia, Algeria, or anywhere the Middle East. It's incredible how many immigrant settlements there seem to be nestled in these narrow streets and alleys. Men dressed in long gowns and
little hats, standing around on the street corners talking in hurried voices to each other, beautiful tall African women in long flowery dresses and carrying babies on their backs or fronts, Muslim women dragging crabby children in their little strollers through the crowded market alley. There's a fairly large Chinatown district too, with Asian stores that are as big as Costco at home.. I wandered through it all, happily, while Doug quickly got out of there and headed back home.
And the market sellers themselves have a good sense of humour, tremendous work ethic (they are always yelling out "one Euro au choix," trying hard to capture the attention of the passers-by), and they put in a long day of unpacking all their stuff, trying to sell it off, and then re-packing it into the trucks for tomorrow's market in yet another neighbourhood. And it's getting considerably colder out there, so it must be harder to handle the cold vegetables, fish, meats, whatever the produce.
Two rabbits all cleaned cost 6 Euros each, or 2 for 10 Euros; huge bunches of basil cost only .30 Euro, and most of the grapes, tomatoes and red peppers sold for as little as 1 Euro for a kilo. Incredible prices and just block after block after block of fresh goods – figs, dates, olives, fresh herbs, dried herbs, exotic fruits like mango and pomegranate, spices, vegetables I've never seen before and all on offer at such small prices.
And there were tons of other consumer goods on sale too. French berets, pashmina scarves, woollen ponchos, socks, a huge selection of lingerie, sweaters and glamorous tops, pyjamas, household items like mops, pots and pans and plates and bowls, plastic goods, dollar-store items, and of course, tons and tons of ladies and men's fashions. Some of the clothes were attractive enough, and the prices were always under 20 Euros, but I swear those tops and pants and skirts don't fit the average person…. Even extra large doesn't normally fit me. I have given up trying the sweaters on because even if they're skin tight, the salesperson will inevitably try to persuade you they're the perfect fit. I know better, even in the tiny hand-held mirrors!
The shoes and slippers and sandals available in the markets are similar to what you'd get at Payless Shoes at home – mostly 5 and 10 and 15 and 20 Euros. The high-heeled boots are all the rage here now, although I can't imagine getting to the bottom of my street wearing the stiletto heels, let alone as far as the Metro and down the stairs into the subway system and then to my ultimate destination. Women are wearing them, though, and getting around with seeming little effort. I would be so crabby with tired, sore feet.
We went for a drink after our grocery shopping this evening in a smallish bar/brasserie on Belleville, just up from our place. We sat outside, the only brave patrons to do so, and we did so mostly because it had little heaters in the overhang which made it quite pleasant to be outside despite the coolness of the evening. A lot of bars, restaurants, cafes and small stores in Paris use mirrored walls to give the illusion of being much larger than they are. It works perfectly until you get inside looking for the extra space you think is there!
We also went out for super tonight at a Franco-Italian restaurant in the neighbourhood. It was about 7:30 pm and just getting underway. By 8:30 the restaurant was booming, with lots of locals coming in — some of them didn't even seem to need to place orders for drinks or appetizers. It just arrived on their tables. My pesto pasta had a more creamy sauce than I was expecting and the taste was just so-so. Doug had pizza (tuna with tomato and olives, no cheese) which I thought was kind of boring. The tuna had a strong flavour but it was still nice to be out and about in our Paris neighbourhood. It's almost a full moon out tonight and so we enjoyed walking around the neighbourhood with the moon in view. I made Doug walk to the end of the street, to Parc Belleville to see the moonlight.
I went to the Parc Belleville, the end of the street, earlier this evening to watch the sunset. (I visit there almost every day because it's so pretty and just a one-minute walk away from our place.) It was absolutely gorgeous. Lots of others were on hand to see the spectacle, families, people walking their dogs, young people on scooters, and numerous kids playing kick ball with sponge balls.
That's what's really striking when I open the courtyard door into the street – there's always the sound of the children's voices. It's like having a schoolyard on the street (well, actually there are several) but throughout the early evening, the people noise is constant — children laughing, shouting, and playing. There are other noises too – dishes clanging, phones ringing, various types of music, people talking across the top windows to each other – it's the kind of street where the windows are all wide open and the voices drift all around all the time. I like that.
When I got home, there was a note from Doug that he'd gone to enjoy a picnic lunch in the park; but he was just getting back so I was sorry I'd missed the chance of a picnic together. Mind you, I'd already enjoyed a Turque lunch in an adorable and popular restaurant hole-in-the-wall near Avenue Menilmontant, another famous street in the area. It was so busy at the little Turkish restaurant I couldn't believe they could serve so many people, both inside the two little rooms and as take-away. It was tasty – not healthy, mind you – but very tasty nonetheless.
My First French Friendship and Handshake
This morning (Saturday), on the way to the bakery, (after my short run in Buttes des Chaumont and a delicious breakfast of frittata complete with a croissant and rhubarb jam), I got my very first personal handshake of friendship in Paris. I was very pleased! One of the men who works for the City in this neighbourhood shook my hand, asked where I was from and how long I'm staying in the country. He knew I was English and welcomed me. I was happy to have my first 'friendship. handshake' He usually smiles at me every day anyway but it was nice to have it made official with the handshake.
Felix is missing!
This morning, so far I've heard a woman's voice, as well as two children, calling Felix's name, and the young
boy has even gone door to door shyly to inquire if anyone has seen Felix yet today. I haven't seen him and sincerely hope he's alright. He almost always comes when called, so there's definitely cause for concern! That's why my little cats at home in Halifax will NOT be going out. There's always the possibility that someone will let Felix out of the courtyard. If it were me, I would have a sign on the courtyard doors, reminding visitors and residents alike that Felix and Indiana are not allowed outside the main doors but there's nothing posted. I've seen several 'missing cat' posters in the neighbourhood since we've arrived, and there are at least two little cats that seem to roam the side streets freely. They're friendly (to me) and seemingly susceptible to traffic, even though it's not a busy street. It would be very sad if Felix is lost in the neighbourhood. I've enjoyed his company very much. Indianna has been coming around a lot more in recent days (the tabby cat). The owner leaves the window open a fraction so it's a cat door for Indianna. He's young, shy and skittish so I'm making only 'so so' progress, especially compared with Felix who will rub all along Doug or me, trying to get our attention. I hope Felix is alright!
Bois de Vincennes is a great cycling destination
We just returned from another 25k bike ride around the Bois de Vincennes. The city streets are very quiet today, even though it's Saturday. It may be because of the lunch hour lull. Everyone in Paris (all of France, to be sure) takes about a two-hour lunch break. It might be wonderful to enjoy that repast in the middle of the day but you have to work much later into the evening because of it. The French women (and the occasional man) don't pick up their very small children from daycare and primary schools until nearly 6 pm. The kids are always so crabby, but the mothers seem to take it all in stride, walking ahead, letting the kids blow off steam. It's fun to watch. Some of the youngsters have pretty spectacular tantrums.
Bois de Vincennes is a beautiful park/forest and everywhere you turn, there seems to be anther lake-side park where people are walking their dogs, paddling in long wooden boats, riding cycles, running, picnicking, just relaxing in general. It's huge, too, at first I thought probably the size of six Point Pleasant Parks in Halifax, maybe even more. Turns out it is three times bigger than New York's Central Park and FOUR times larger than London's Hyde Park. Turns out, there are four lakes within the park.
Check out www.answers.com/topic/bois-de-vincennes) for a bit more detail and a few pictures.
There is a historically prominent chateau there too, Chateau des Vincennes (en.chateau-vincennes.fr/index.php), which has been around since the 14th century.
We didn't visit the Chateau itself; rather we enjoyed a picnic and fed the crumbs of our sandwiches to the small, aggressive birds. It is a lovely day here today, about 10 or 11 degrees in the sunshine and decidedly cool on the bike. I was wearing my little gloves, my new red French scarf wrapped around my neck and my headband and I was glad of it all. Doug even wore full bike gloves, a first that I've seen.
Photo Exhibit
There is a small photography exhibit by a local artist happening just at Number 27 rue Envierges (I live at No. 26), so I think I would like to drop by. It features photos of parc Belleville and all around this vicinity and they look quite good. Doug's gone grocery shopping and this would SO not interest him. The exhibit is being hosted at La Cordonnerie, the teensy office of the English girl who likely supplements her income with these exhibits. I haven't talked to her yet, although I've seen her many times coming and going. She lives in the same building her office is in, and she keeps pretty unpredictable hours. But then, some would say the exact same thing about me, if you were to observe how little I actually work most of the time.
I've just returned after meeting Lesley Brown, the owner of La Cordonnerie, and we had a nice visit together (despite the other 20+ people there). There were at least 30 people crammed into the little office and spilling out onto the street for the opening of the Photographic exhibition. I also met two of the professional photographers who had their works on display.
Lesley seems as down to earth as they come and definitely she is now getting tired of being a translator (doesn't pay nearly enough for the work involved) and was keen to talk about freelance writing for corporations. It could have been an opportunity for me to speak French to some of the people I met; however, they were far more keen to practice their English than I was to speak halting French. Ah well. It was definitely worth doing. Of course, I wish now that I'd done this introduction to Lesley weeks ago as I'd intended. She seems very nice. She works part of the time from an office at Republique, and the remainder of the time here on our street. She changes her window display every day and it piques my interest – always something fresh, a magazine, a bunch of carrots, postcards, plants, poetry or free verse….
Felix returns!
Felix came around today! I did suspect he'd  been located because there were no signs around the building or posted on neighbouring buildings announcing he was lost… imagine my pleasure and relief when he showed up at our window around 11 am, wanting to come in for a nap. I was thrilled. I dreamed about him last  night, fearing he might get run over or trapped inside some courtyard where he might be cold and hungry for days while the owner was away. Gosh, that's  all the more reason to keep our boys and Diva-do safe in the house!
Sunday, November 5/06
Today we didn't do much, although we enjoyed a quiet drink in a bar that had heating on the outside, under an overhang. It is quite cool here today, maybe 6 or 7 degrees and damp and cloudy. I was at the Sunday Clignancourt market but found it so cold and damp that I came home early.
Ugh. Imagine if it was your job to be set up there every week to sell your goods from 9 am until about 6 pm in the evening, in the cold, damp outdoors…. no thanks!
Monday, November 6/06
Just got home from an afternoon that was somewhat surreal  — a lovely lunch with Doug (at his surprise suggestion) in a little bistro tucked away in one of my favourite market neighbourhoods (beef bourguignon and hot goat cheese salad, plus crème caramel, washed down with a healthy Bordeaux wine). Doug went home to the apartment and I stood in line in the cool air for a long time to see a huge and beautifully displayed photography exhibit of Robert Doisneau, one of Paris's most famous photographers who chronicled everyday life in the city for about fifty years. I loved it! Also saw the Cabu exhibit, one of Paris' most popular cartoonists. He was interesting too.
Here's a blurb about Doisneau:
"Robert Doisneau, one of France's most popular and prolific reportage photographers, is known for his modest, playful, and ironic images of amusing juxtapositions, mingling social classes, and eccentrics in contemporary Paris streets and cafes. In over 20 books, Doisneau has presented a charming vision of human frailty and life as a series of quiet, incongruous moments. He has written: "The marvels of daily life are exciting; no movie director can arrange the unexpected that you find in the street."
Tuesday, November 7/06
Another very good week is coming to a close. I can't believe how quickly time is flying and that we'll be home in less than one week! I don't want to leave just yet. I'm enjoying the routine we've established. Although I'm a bit keen to get back into my routine at home, I'm not ready to leave Paris yet!!!
We're coming to the end of our trip and I'm somewhat sad about that. Of course, I want to return to our cats, my routine, etc., but there's another part of me that could stay here for six months or a lot longer. I've enjoyed it so far and know it would be grand to stay longer, savouring the winter and the streets without tourists. I'm slowly making friends with the neighbours, even some of the retailers (baker, veggie seller), (Doug is not) but it's because I'm more observant of faces and always say bonjour to people. I've loved it.
The routine here is not terribly exciting but it is relaxing. Doug usually gets up very early and works from about 4 until around 7 am, then returns to bed. I wake up around 8 or 8:30 and get up and do a little e-mailing and checking stuff on the computer. I usually like to go for a swim (I've been pretty good about going, it's just a 12-15 minute bike ride from here and quite enjoyable), then come home for lunch, eventually take the Metro or my bike downtown or somewhere of interest to me. Doug seems to like doing the grocery shopping (wine every day at about 2 or 3 Euros a bottle), cheese, pate, fresh tomatoes and other veggies, and a fresh baguette of bread twice a day. Tonight we had pasta with a funny kind of sausage – more like a very fatty hot dog than my kind of hot Italian sausage. But needless to say, I ate it all up.
I'm getting much bolder on the bike too. Yesterday I travelled more than 15k by myself. My biggest fear is more of getting hopelessly lost but that hasn't happened so I'm becoming more confident. All the boulevards and 'places' look so similar and they're so large, it's easy to get confused and lose your bearings!
I skidded on wet pavement last week (going too fast and had to stop suddenly on a slight downhill) on Avenue Pyrenes. My brakes locked up completely. It was the most horrible sensation… I did manage to slowly fall over my bike because my traction was completely gone but I was more nervous about the friggin Mercedes Benz I was about to run into! The people in the car were very concerned about my welfare but I was just fine, a little embarrassed. Oh  well.
Today I went to the markets within a few kilometres from our place by bike before my swim. I bought a bunch of beautiful green grapes — a Sobeys bag filled to the brim for just 1 Euro. I tried to give the guy more money because it seemed I was ripping him off but he insisted. When I bought a banana at the first market stall, the guy gave me two for the price of one, probably because I proceeded to eat the first one.
The courtyard (Felix and Indiana) cats are getting braver than ever. Even Indiana, who is extremely shy, has been in our place a couple of times today. He's so skittish.
Met a couple from Vancouver on one of my walks home – they are freelance writers who were visiting Paris to write for the B.C. Government about a big food show that took place at the Paris exhibition space last week. They were wondering if Belleville was a safe neighbourhood and I happened to overhear them and started chatting them up. (By the way, it is a safe neighbourhood, although people from other arrondissements think it is not.) The couple work on writing product reviews, travel, food and entertainment… Their website is www.evalu8.org.
Just got back from a 15-k bike ride by myself. It's busy out there on the boulevards and avenues so I'm feeling rather impressed with myself and my ability to tackle it. I've been biking almost every day but the weather has turned considerably cooler now. No frost yet but definitely need to bundle up. Also had a swim in a 50-meter lane with a bunch of French fast swimmers today. They were excellent swimmers but they were also quite impolite, passing, jumping over you to get started, just generally rude. But in actual fact, it was probably a better workout for me.
Wednesday, November 8, 2006
Bois de Boulogne is one of the parks on the western edge of Paris (Bois de Vincennes is on the eastern edge) through which the Paris marathon route took me in 2003. It was a beautiful distraction at the near-end of the marathon and I remembered only how pretty it was, with a large lake, lush gardens and a wide path for running and cycling. It is, of course, as beautiful today.
We bicycled from our place to Republique, to Bastille, across Pont Sully, all along the Seine past Notre Dame
Cathedral, past the Louvre and place de la Concorde, to the Eiffel Tower (all on the left bank), and then along the right bank to get to the Park. After a leisurely picnic lunch, we had a grand ride back along the right bank, which took us along a bicycle path almost all the way back to Republique. Doug is so good at figuring out precisely where we should turn left or right and map reading is one of his skills that I envy. (But I'm improving all the time.)
Felix spent the night sleeping with us last night. I awoke at about 3 am and he was bawling outside, perhaps out of loneliness of to get into his own house (I thought it was Indiana to be honest) but when I opened the window, he came right in. He settled down immediately on our bed and didn't move at all until midday. Even when I got underway early and left the house, he stayed in bed, relaxing. When Doug went out shopping about mid-morning he left the window open and Felix apparently left sometime around noon or a bit later.
Thursday, November 9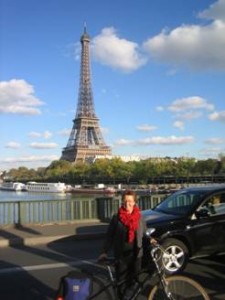 I'm excited about my day! Ran through Buttes Chaumont, then cycled to the pool and swam for 45 minutes, then went directly from the pool to the Eiffel Tower by myself, on the bike! I spent the entire afternoon cycling around and just checked my odometer to see I cycled 30km today. I was hoping to challenge myself to cycle to the Eiffel Tower, and today I did! That is exciting for me. It means my navigation skills are continuing to improve, plus I'm getting quite a bit braver in traffic. I could pinch myself – it seems so grand!
A couple of years ago I rented a bicycle in San Francisco and went all along the SF waterfront, over the Golden Gate Bridge and deep into Marin County (again, about 30km) and then took the beautiful Sausalito ferry back to SF. I thought I was so cool but in fact, I was cycling along bike paths most of the time. Here in Paris there are lots of cycling lanes but there are numerous cars, vans, buses, etc. blocking them so you're weaving in and out all the time. The traffic flow is like a dance here. The vehicles and pedestrians and cyclists all occupy their little bit of space on the road for a few seconds and then something else moves immediately to take its place. It is just like a dance, effortless, and yet somehow it seems to flow flawlessly. I am enjoying that part – and secretly amazed there are no major mishaps.
During my visit to the Tower Eiffel today I met a couple from New York City – they were engineers with NY Public Transit. She had even been to Nova Scotia in a recent time.  Wwe all took pictures of each other with the Tower as backdrop. The two boys from Slovenia we met took our pictures and we took theirs. Cute.
I stopped in the Latin Quarter on the left bank so I could have a Greek sandwich (gyros on pita bread with fries) – all that exercise and then all that food. Hmmm, wonder if I had a calorie surplus or deficit today. Fed the many sparrows and pigeons (on the quiet, discreetly, because that's not okay in a food district) and even saw one poor pigeon inside the restaurant that had no feet!  I wondered if it was a birth defect or a result of people cruelty. I hope it was a birth defect.
Went to my neighbourhood bar to write in my journal – got a handshake of friendship and the bartender/owner automatically brought me my glass of red wine with a wink. I like it there very much. The people are transient but regular and they don't stay long – couples or individuals having a quick cup of espresso or a quick beer, mostly, sometimes lingering over a glass of wine or pot of tea. It is a great bar and there's a wonderful exhibit of photography on there just now. I think the pictures are very creative and different – lots of aquamarine blues and blurred images of familiar scenes like Montparnasse or Paris streets.
I enjoy being able to hang out in a real neighbourhood like this. I recognize people and they recognize me. It's pleasant to live among the "regular" people who work, enjoy socializing in their local bars and restaurants, shop after work for their everyday essentials like bread and wine and toilet paper, cycle around town to save money, wait for hours for their laundry to finish, enjoy their sweet treats on occasion and consume their baguettes and other distinctly French goods as part of their routine.
Au Bon Coin
"Au Bon Coin" is a small restaurant that had received rave reviews in a travel magazine I'd ready several years ago. (I clipped it and that's another reason why journaling is a good idea – I finally got to visit there!) It was right on the same corner as Le Sympathique, which was one of our regular haunts for a while in our early years in Paris, on Boulevard St. Marcel and rue Collegiale. Au Bon Coin was packed at 2 pm! Maybe 75 people were packed in tight (really tight) into a teeny eclectic space that was full of antiques and curios like those metallised posters advertising coke, javex, etc. There were tons of
antique coffee dispensing machines, crates of wine stacked for the restaurant's everyday use, and even an old Metro sign (the real thing, complete with its old frame for Ben Akir, near the Eiffel Tower). The menu at 11.70 Euros was excellent – herring fillets for Doug, crudite (just right) for me, then steak and fries and caramelized onions for me. Doug's was kangaroo (!) and tasted a lot like beef in a flavourful sauce. Desert was crème brulee for me and a good-looking cheese tray for Dougie.
Jazz Nights
I happened to see a notice that Café la Cascades at the bottom of my street had Rachel, a local performer, appearing at 8 pm tonight. Well, that was quite an authentic experience and I was thrilled that I went. Rachel is a talented singer with a quiet, assured presence, and she's extremely good. I was beginning to think at first that she was English – all her words/songs are sung in English, and she and her guitar are quite relaxing and rousing at the same time.
At intermission, I was surprised to find Rachel going around the small but crowded restaurant/bar with a hat to collect donations for her performance. Guessing at 2 or 3 Euros each, she might have made 75 Euros with the first pass through the place. I'm assuming she'll get around again at least once or twice more tonight.
Cascades is an interesting place with lots of regulars – and a blond woman named Caroline who runs the place with her husband. There are lots of people here, regulars obviously, judging by the hugs, handshakes and kisses all around. But it doesn't take long to be recognized in the neighbourhood and some people from the bar recognized me the very next day!!
It's smoky in here (very) and I'm only half surprised to find that Rachel smokes and drinks beer.
She even sang Carly Simon's "You Make Me Feel Like a Natural Woman," in full English, yet she didn't seem to understand much of what she was singing. People are up dancing now and everyone here seems to know this song. There's a slim woman at the bar who is dancing with anyone who will dance with her (not in a shameful, just in a happy, way).The music selection is almost Irish at times, with songs like "I will love you forever and ever."
The French enjoy their home-rolled cigarettes, men, women alike. Everywhere in the bars and on the streets, people are rolling their own and proud of it.
Rachel has just now presented her guitar to the guy who has been sitting behind me for a while – he's from Chez Cosette across the street, I believe she said. Hmmm, he's a much more vigorous guitar player for sure, with a soft voice that doesn't quite cut it under the noise of his guitar. The guitar may have too much amplification but he's giving Rachel a break and promoting himself, so all is cool.
After a song or two, it's clear she is the superior performer – as suspected. She has so much more understated charm. Although he is handsome, his singing and playing style is more aggressive somehow.
It's good fun to watch the dynamics around the bar and in the restaurant/bar. It's Friday night, in Paris, in my own neighbourhood, just steps from my apartment, in the midst of real Parisiens having their jazz night out. It's authentic and precisely what I want. The people are as ordinary and regular as we are, some are having food, some hare having too much drink, but all are relatively happy.
The couple beside me began to talk to me in English – both are from Paris, born and raised and their English is surprisingly good. They said if I had seemed like a tourist they might not have let on they could speak English, but I was 'obviously from the neighbourhood.' His name was Gerald or Gerard and hers was Muriel. He is a very good singer and guitar player and got up to perform a song or two just as the first guy finished. Rachel was able to have two smoke breaks in one! Muriel is a model in the movies, although she finds it difficult.
A few days later, Muriel and I have already started e-mailing each other – she writes in French and I write in English, good practice for us both.
On the following evening I visited Chez Cosette, about half a block from our apartment, and enjoyed listening and meeting duo called Pandora Jazz Duo, featuring an Edith Piaf-like woman named Pandora and a guitar/drumstick player from Serbia. She has an interesting voice and an engaging personality. She was speaking full French but it seemed to be interspersed with English conversation. At her first intermission, she passed around the hat too and told us she is from England! Pandora has been in France for 20 years.
Her songs included "I've Cried a River Over You," John Denver's "Country Road," "I can See Clearly Now," "Stand by Me," "Hit the Road Jack," "La Vie en Rose" (at my request), and "Summertime" (a beautiful rendition of that classic). Pandora's website is www.pandora.populus.ch – check her out.
I am realizing that the "real" Parisiens seem to open up and are friendlier if they know you're not just a tourist, which I'd hardly be here in the Belleville, Melinmontant neighbourhood. Our apartment is only one of few available in the 20th arrondissement.
Felix spent another night with us, all snuggled on the bed like a part owner of the flat.
Sunday, November 12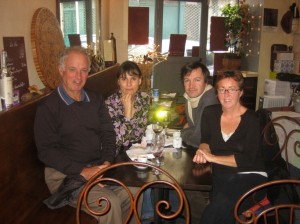 We took our bicycles to the Velos lock-up facility operated by the Marie de Paris and got locked in the huge warehouse… it was 3 pm on Sunday afternoon and we buzzed ourselves in using our pass code… but when we tried to get out, the door would not open. The electronics were malfunctioning and I was freaking, already needing to use the bathroom, getting thirsty, and feeling claustrophobic. Eventually we managed to get the attention of the young fellow working at the front of the velo place – phew!
Chez Cosette for my last night in Paris featured a blues duo called Danylo and Diablo (guitar, harmonica and vocals). They're extremely good and there's a pulsing crowd here, at least 30 people filling the little space. It's very friendly and I've made a few people already who recognize me (and I them) from last night here or the performance at Cascades. These are true blues fans. The boys are better than great and the young couple beside me are friendly and so in love. He did a guest song or two on his harmonica (he's professional surely) and definitely digs the music.
It's amazing how many English songs the audience seems to know and know well (Johnny Be Good), as well as the musicians. It's encouraging to see the various "younger" performers who want recognition or the chance to practice in front of an audience. They seem to tag along with their "mentors" and get tremendous benefit from this. It's nice to see.
Well, that brings us to the end of our Paris sojourn – for this year. Doug bought a ton of beautiful cheeses and they're carefully wrapped in our bags, ready for escorting to Halifax and our three cats.